Posted from Pambula Beach, New South Wales, Australia.
The park at Pambula is a great one.  Plenty for the kids to do, especially over summer, as it's right on the beach.  Unfortunately, today it isn't summer and it's frightfully cold and rainy.  We've even had to unpack our winter woolies that have been travelling Australia on the roof of the car.  The van heater even got a shock as it was asked to do something for the first time in about 3 months.
I'd planned on going for a morning walk either up Mt. Imlay or one of the many great parks around the area, but the weather soon put an end to that idea!  I braved it long enough to grab a geocache or two, but my mind was sitting in a cozy pub around a nice hot fire …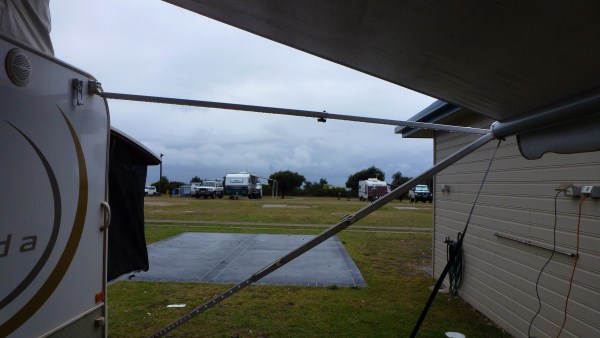 The kids meanwhile were still floopily lying around in bed when I got back, as were several kangaroos … lying floopily under the back beds hiding from the rain.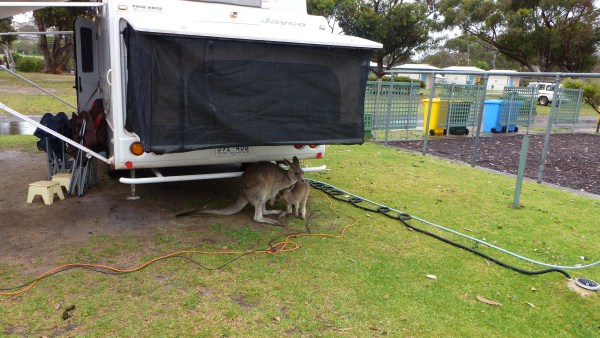 Brekky was soon arranged and we all made a quick dash for the pool.  It's indoor and heated for a start, but they've also got a spa … that was our plan anyway.  Many other folk also had the same idea …  Hannah's noisy clacker soon enabled us to have the spa all to ourselves for a little while at least.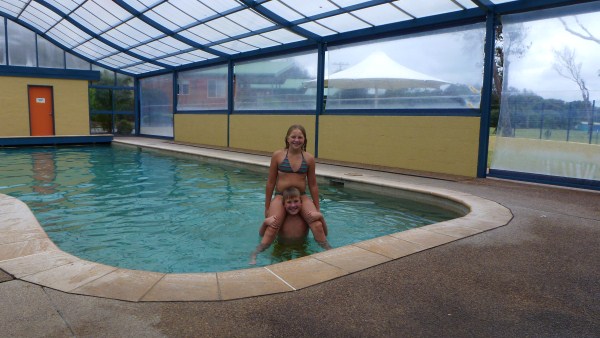 Although breakfast wasn't far into the digestion phase we were already thinking of what was going to be for lunch.  There's just not much else to ponder in a seaside town in the rain…  We settled on a familiar favorite, the Tura Beach golf/bowls club.  They had a special on Parma's for $10 each.  None of us were really hungry and weren't expecting much from a $10 parms…  Big mistake.  Parma's were huge and filled us well and truly up.
Back to the van via a little drive around.  We we're all a little shy of talking about the elephant in the room … which was of course … what are we doing tomorrow?  The thing is we're within distance of home now.  It'd be a big drive though.  Yet we've still got 2 nights planned for on the road.  Do we go home early or do we have one last try at camping somewhere and doing absolutely nothing for a day?
Out of all the things we've done on this trip, perhaps the most important thing remains unaccomplished.  We've not had a single day where we just sit around and do nothing.  We've tried and failed many times … but some activity always seems to have gotten in the way.  I guess don't go on a holiday with us if you just want to laze by the pool for more than an hour at a time …
Yet the possibility still exists for us to go to Golden Beach.  This is a free camp.  There's no-one and nothing around.  We'd have the place to ourselves … and do nothing … except walk on the beach and have a read of a book and a drink of a beer (or three).  Then we'd have truly achieved everything we'd set out to do this trip (and then some).
All this thinking got us, inevitably, around to thinking about dinner.  Kel booked the courtesy bus for Pambula Golf Club to pick us up and then we were there!  Blake, not learning his lesson from lunch, ordered another Parma.  Which was even bigger than the first one.  A tantalizing home made one covered in ham and cheese.  Fat boy polished it off with no trouble at all … and still had a share of dessert.  The rest of us were happy with our meals too; Hannah and I had steaks and Kel had pasta.
It certainly was looking that way … not much point going to Golden Beach if its going to continue raining …
[gmap]