Posted from Central Coast, New South Wales, Australia.
Just a driving day today.  We didn't have much of a plan … in fact we hadn't actually done our research at all.
All I knew was that we'd be on Sydney's outskirts around 5pm on a Friday night and had no plans on driving through it then.  So we had to stop somewhere North of there for the night.  Probably Gosford…
… and that's where it all fell apart.  The first issue was that there aren't any caravan parks in Gosford.  No free camps either.  I'm sure there actually are, just that our books don't show them.  They're probably hiding under listings for Gosford suburbs.
We took the coast road on the way down since the section around Forster Tuncurry is a really nice place.  We'd originally planned on stopping along here at Boomerang Beach, but when the time came we'd not really gone far enough for the day given our few days left.
We had lunch there, overlooking the Myall lakes, vowing that we'd be back here again someday.  It's just a nice little retreat area.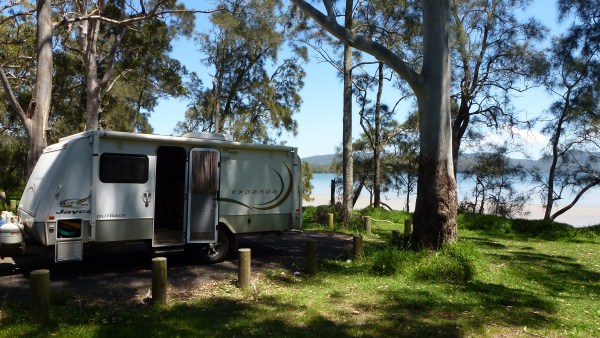 Back on the road we made the discovery about no parks in Gosford and widened our search.  A couple of caravan parks that looked OK, but the ones we called didn't have sites that would fit a van as big as ours.  I mean, really?  How small a caravan do you want to cater for?  We've seen camper trailers that end up bigger than our rig!
Kel was starting to get a bit flustered when the first free camp we called on, to check availability, was also full.  The second one was pretty sure that we'd fit, but was going off to check while we kept on heading that way.  When we got to the turnoff we made contact again and luckily confirmed that we'd fit.  And we did too!
We arrived and setup in the customary 10 minutes and discovered that we'd stumbled on a fantastic spot, yet again.  Many times while flying over Sydney you notice all these little inlets and bays to the North of Sydney.  This beach is in one of those areas.  One of Sydneys secrets I assume.  The foreshore reserve that we were on still had powered sites and was tidy with great amenities too.  It was also chockas with the horde escaping Sydney for the weekend.  Everybody was well behaved and quiet though.  The sites were a little tight to get into, but nothing too yoga-like.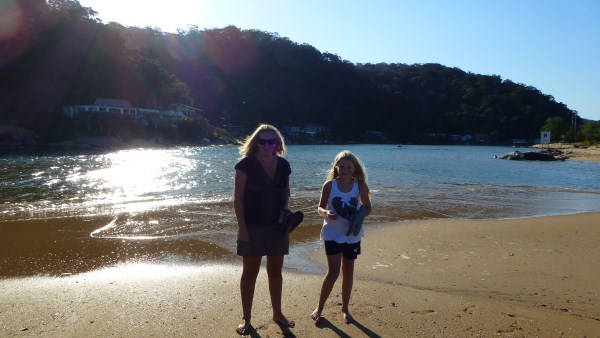 A truly top spot.  The houses in the background haven't got road access to them and rely on dinghys to ferry across supplies.  Their cars are parked on the other side of the inlet.  Something different…
We went out to the local pub for dinner.  It's only a short walk along the beach and looked like a great place from the outside.  Plenty of character.
But looks can be deceiving … ya can't judge a pub by the paintwork.  In this case though our hunches were correct and the place was great.  Fantastic meals in a great atmosphere.  *sigh* another place we need to come back to "someday"…
[gmap file="__UPLOAD__/2011/10/2011-10-21.gpx"]